OPENING:
02.11.2017, 19:00
03.-12.11.2017
Lilithistic Revelation
In October 1977 filmmaker Vibeke Løkkeberg released her low budget feature film debut Åpenbaringen (The Revelation); a portrait of a woman(1) in her midlife, experiencing an existential crisis when her function as a mother and object of desire fades. The film mostly got good reviews until a critic from Dagbladet, also known for hosting the Miss Norway contest, came home from holiday and felt he had to correct his colleague who rated it "the film of the autumn". Under the headline "Nei til Marie Takvams rumpe!"(2) ("No to Marie Takvam's ass!"), a personal indignation for why the previous actress and model Løkkeberg had taken the step from object on screen(3), to subject behind the camera focusing on an aging body, came to surface. His disgust resonated in others who were soon to condemn Løkkeberg as an artist and a person, and of her themes as private, irrelevant or disturbing – disempowering the female perspective as such. A media storm later known as "Rumpefeiden" (the ass quarrel) occurred, and a flame was lit.
The skepticism of Løkkeberg accelerated throughout her career(4), and the stigma of being a difficult, self-occupied and witch-like woman who casted shame over Norwegian films is still present in deep corners of the film industry.
The condemnation also established a more general doubt about the artist-driven film / auteur film, affecting filmmakers that explored new territory in form and content, dominated by female directors such as Anja Breien, Laila Mikkelsen, Nicole Macé and Løkkeberg. The film scholar Johanne Kielland Servoll states in her PhD thesis(5):

"The Norwegian version of the auteur film was affected by the same objections that had traditionally been directed towards women's artistic production in general: it belonged to the private sphere and was comparable to diary entries, as opposed to the public sphere which traditionally belonged to male artists. (…) I would argue that the effect of the critique of the auteurs from the 1970s is clear: It became harder for women to make film in the following years."

Can it be that the massive critique and skepticism Løkkeberg met, worsened the possibilities for other female directors, and that the inflamed term Auteur – created a fear driven, controlling production environment, effecting film artists to this very day, preventing space to take risks, to move?
And if so, may a filmic vendetta arise from a gap in the bible?
dette er ingen prøve
det er ikke en fortelling
ikke vekkelse? politikk ikke en tale
dette er kamming og trapping
krokbragd og rosebragd
arbeid og onani
frydsknurr

—Excerpt from "Ora et Labora", by poet & Lilithist Aina Villanger

On October the 3rd 2015, the confirmation of 11 women in our mid-thirties took place in an abandoned factory between medieval ruins, skyscrapers and shady industry in Oslo. We had gone through a six months long confirmation process in the name of Lilith – Adam's first wife who refused to be oppressed and fled Eden, later to be demonized, lost and replaced by a rib – with the hope to integrate her wild spirit for personal and communal growth.

As Lilithists we are now at service in Lilith's sludgy wake, armed with firehands, lust and cracks. We hereby attempt to destigmatize Vibeke Løkkeberg by illuminating the misogynistic reception of Åpenbaringen, and confess complementary experiences and subjective speculations while embracing the film in a healing screening uterus – and hope for better days for us all. #lilith/demonizednorwegianfemaleauteur/løkkeberg/metoo

—Itonje Søimer Guttormsen, October 2017
(1) In the role as Inger: Marie Takvam, a celebrated poet of the time
(2) Arne Hestnes, Dagbladet, 19.11.1977
(3) How pleasurable this appearance had felt to his eye, he earlier expressed with great pathos
(4) With one exception: the movie Løperjenten (1981) was embraced by both audience and critics
(5) Den Norske Auteuren – en begreps historisk analyse (The Norwegian auteur: a historical conceptual analysis), 2014

References:
∙ Den Norske Auteuren – en begreps historisk analyse (The Norwegian auteur: a historical conceptual analysis)
Johanne Kielland Servoll, PhD at the University of Oslo (UiO), 2014
∙ Levende kvinnebilder, Tone Kristine Kolbjørnsen, 1991
∙ Vibeke Løkkeberg som riksheks, Wenche Mühlaisen, from "Høydeskrekk: kvinner og offentlighet", Gyldendal, 1994
∙ Kvinnelige regissører: Fra kunstere til amatører, Kilden Kjønnsforskning: Ida Karine Gullvik about Johanne Kielland Servoll's research, 22.3.2015
∙ En gang riksheks – alltid riksheks?, Johanne Kielland Servoll, Dagsavisen, 31.08.2015
∙ Ikke uten min datter – The Vibeke Løkkeberg story (Not without my daughter – The Vibeke Løkkeberg story), Kjetil Jansen, Syn og Sein, 2/2000
∙ Sirenen på måkeskjær (The siren on the moon skier), Vetle Lid Larsen, Aftenposten, 14.07.1990
∙ Bibelen – Den hellige skrift (The Bible, the Holy Scriptures), Norsk Bibel AS, oversettelse 1988
∙ Når Gud blir kvinne (When God becomes woman), Jone Salomonsen, Pax Forlag A/S, 1991
∙ At slå rødder i Solen – tekster om og af Hildegard af Bingen (To blow roots in the sun – texts about and off Hildegard of the binge), Rose Marie Tillish, Kroghs Forlag A/A, 2000
∙ Å forkynne Guds ord klart og rent (To proclaim the word of God clearly and cleanly), Gyrid Gunnes, from the Anthology Stemmer, Aschehoug, 2013
∙ Various reviews and articles of the film Åpenbaringen (The Revelation) that constitutes the "Rumpefeiden" (the ass quarrel), 1977

The Lilithists: Aina Villanger, Birgitte Larsen, Hanna Barfod, Ingrid Eggen, Itonje Søimer Guttormsen, Liv Kristin Holmberg, Maria Grazia, Marte Vold, Rannveig Hägg Berge, Silja Espolin Johnsen, Solveig Løvås.
Exhibition Architect: Rannveig Hägg Berge
Consultant: Johanne Kielland Servoll
Confirmation portraits: Ingrid Eggen
Ora et labora / tide song: Aina Villanger
Video imagery: Janne Lindgren, Jacob Kronen
Video edit: Bjørn Erik Haugen, Itonje Søimer Guttormsen
Sign design: Elin Mejergren
Exhibition technician: Halvor Valle
Thanks to: Vibeke Løkkeberg; Bent Bang-Hansen, Nasjonalbiblioteket; Maria Moseng; Tone-Selmer Olsen; mf; Kulturrådet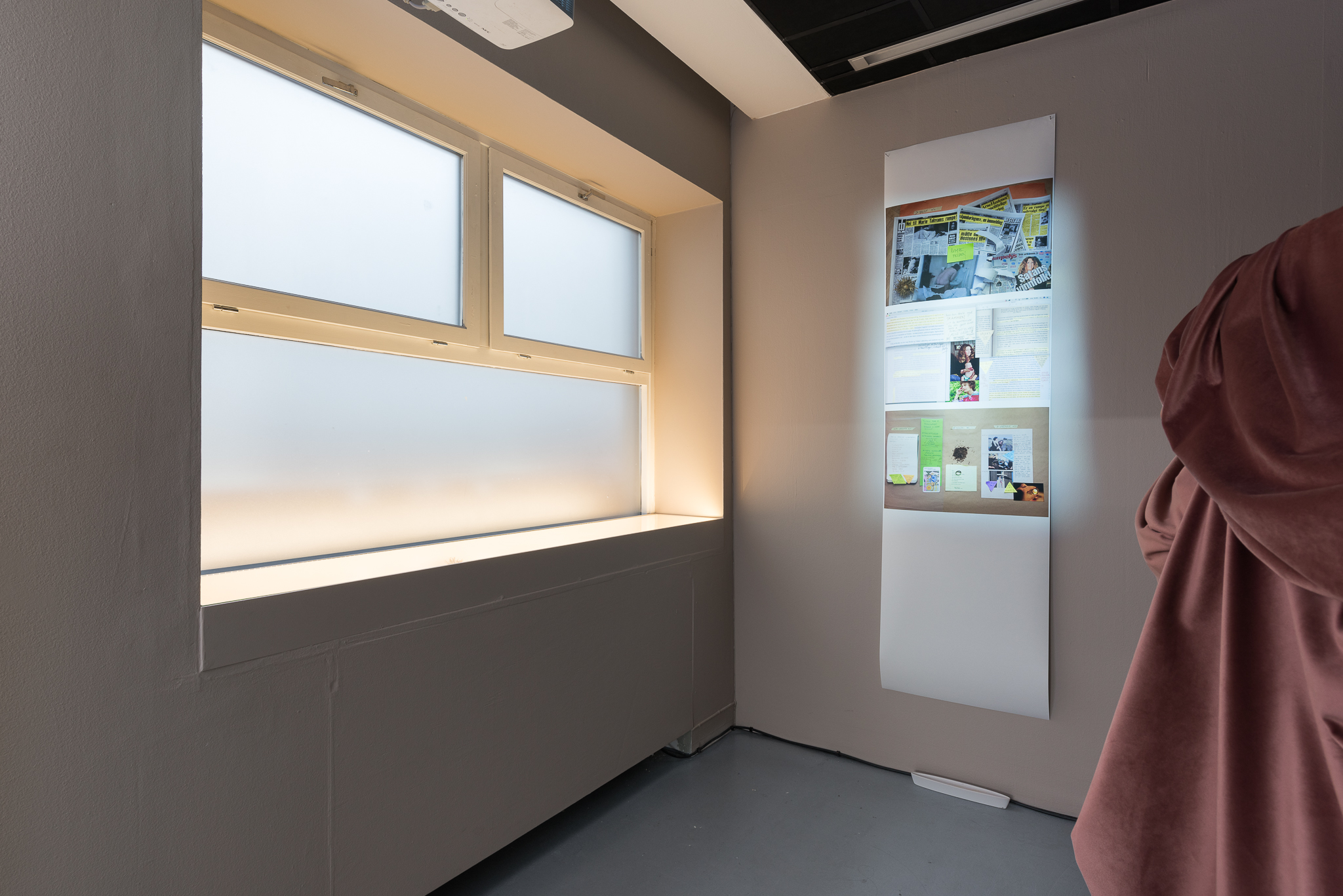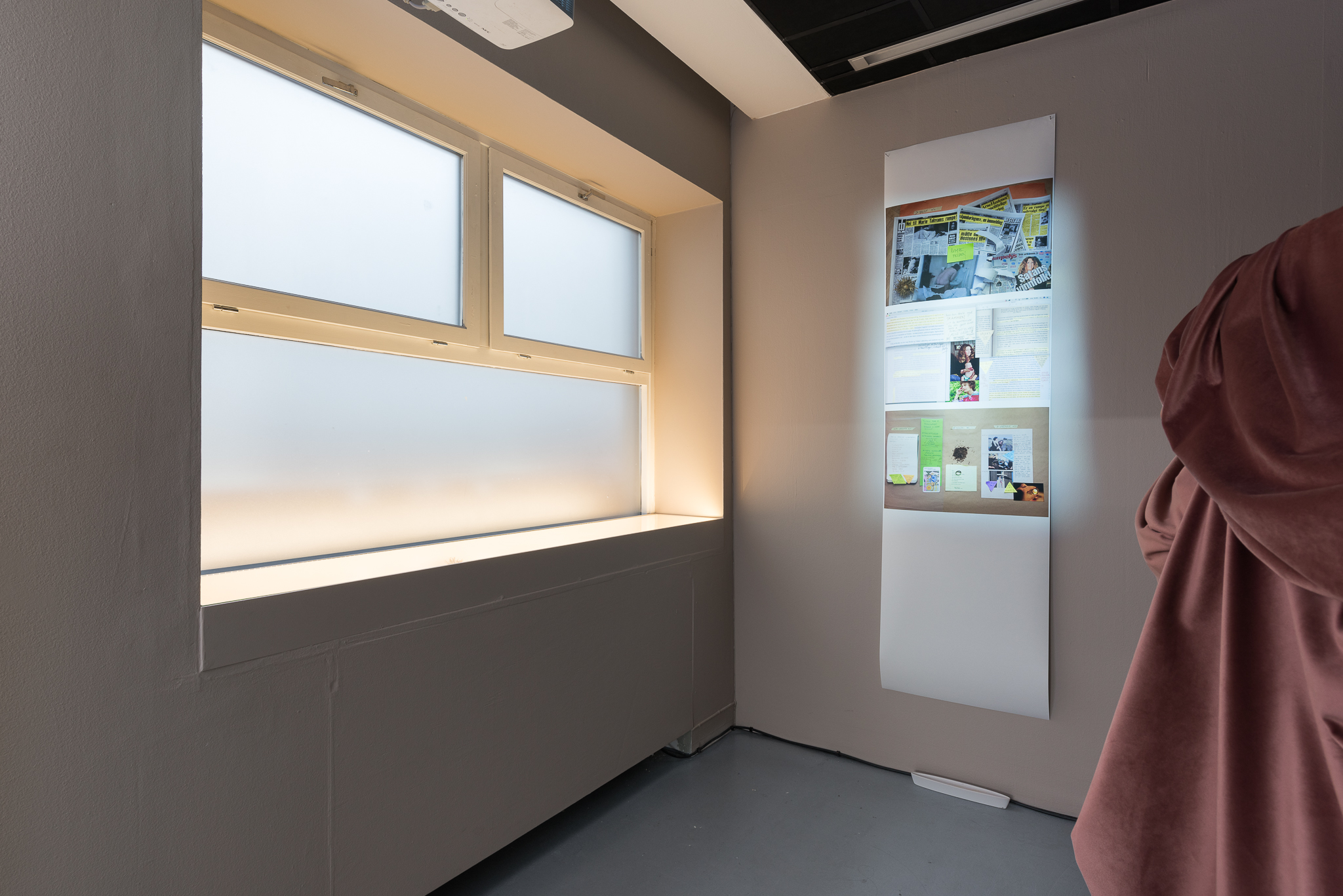 LIST OF WORKS (clockwise from the left)

11 Signs, 2017
Performance traces on the entrance door ceiling, ashes, abject, Eden
Variable dimensions

Aske (Ashes), 2017
Urn, sound recording of "Ora et Labora" by Aina Villanger and performed by 11 lilithists, ashes of burnt objects: confessions, harsh reviews, Elnett hairspray, pillow-case, hair, deceitful literature
Variable dimensions

Konfirmasjonsportretter (Confirmation portraits), 2015
Photographs by Ingrid Eggen as part of the project Eden, Oslo – En konfirmasjon by Itonje Søimer Guttormsen

Lilithism, 2007-2017
Vitrine containing diary, bible, pamphlet, revised genesis, dried Corylus avellana fruits, box containing Eden (soil signed by 11 confirmation vaults, lilith oratorie, confirmation guests contributions of seeds, bones and abject) and opal stone, tarot card, "At slå rødder i Solen" book by Hildegaard af Bingen and Rose Marie Tillish, open confirmation letter, 11 lilithist movement-signs, confirmation camp program, 33 minutes video-loop from the confirmation process, illustration of the 7 virtues for lilithistic service, lilithistic method for filmic process, sketch illustrating the lilithistic embracement of Åpenbaringen

Vendetta, 2017
Giclée print, abject, container
61 x 220 cm, variable dimensions

Uterus, 2017
Wood, nails, foam mattresses, Tempura pillows, velvet
110 x 230 x 150 cm, variable dimensions

Vibeke Løkkeberg, Åpenbaringen, 1977
81 min